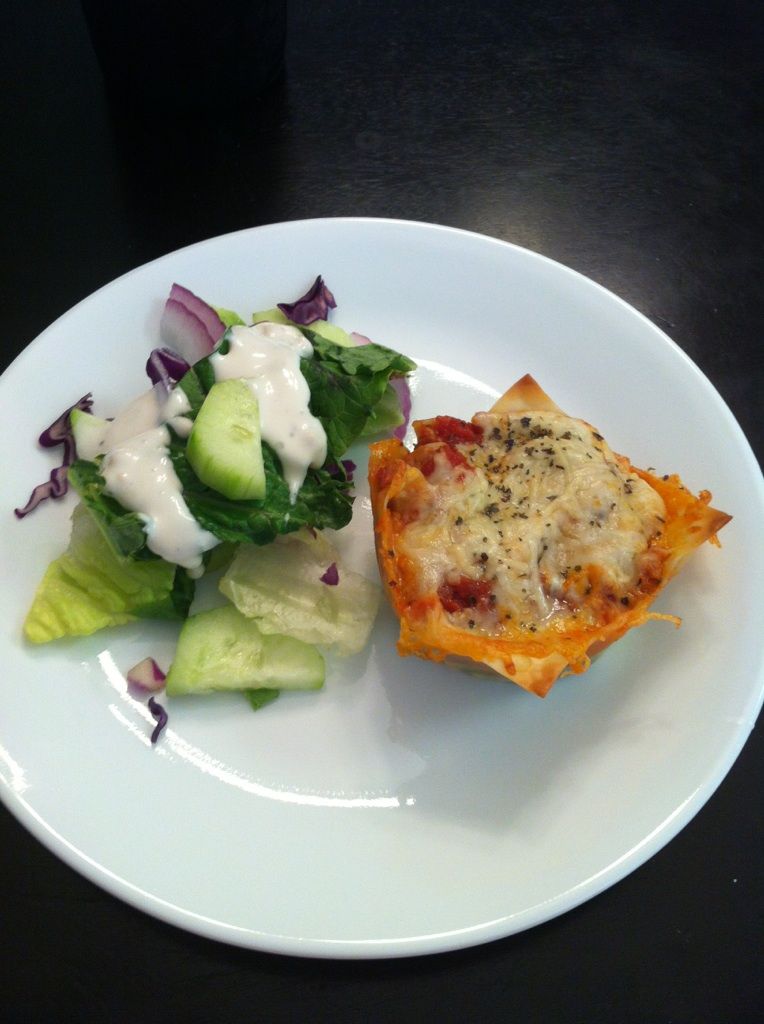 These lasagna cupcakes were such success, not only with how good they were, but how little calories and carbs there were!
Lasagna Cupcakes Recipe:
What you need:
-Cupcake pan (mine makes 12)
-24 won ton wrappers (basically two for each cupcake)
-1 block frozen spinach, cooked and drained
-3/4c ricotta cheese, reduced fat
-1 zucchini sauteed in olive oil (bite size pieces)
-1/2lb cooked ground turkey
-1 1/2c shredded mozzarella cheese
-1/2c shredded Parmesan cheese
-1 jar of your favorite spagetti sauce
-dried basil
Directions:
Preheat the oven to 375.
In a bowl, mix the ricotta cheese and spinach.
In another bowl, mix the turkey, zucchini, and spaghetti sauce. Save about a cup to a cup and a half of sauce for later.
Spray the cupcake pan with non stick cooking spray. Place a won ton wrapper in each cupcake hole, as if it were a cupcake liner. (It will not cover all of the sides yet). Using a spoon, put the ricotta spinach mixture as the bottom layer, just enough to cover the bottom. Then top with another won ton wrapper.
Place a scoop of the turkey mixture next. Then cover with the reserved sauce.
Top each cupcake with the mozzarella cheese, Parmesan, and sprinkle of basil!
Cook for about 20minutes or until cheese is brown and bubbly.
Use a spoon to take out of the pan, let it cool for 5-7 minutes.